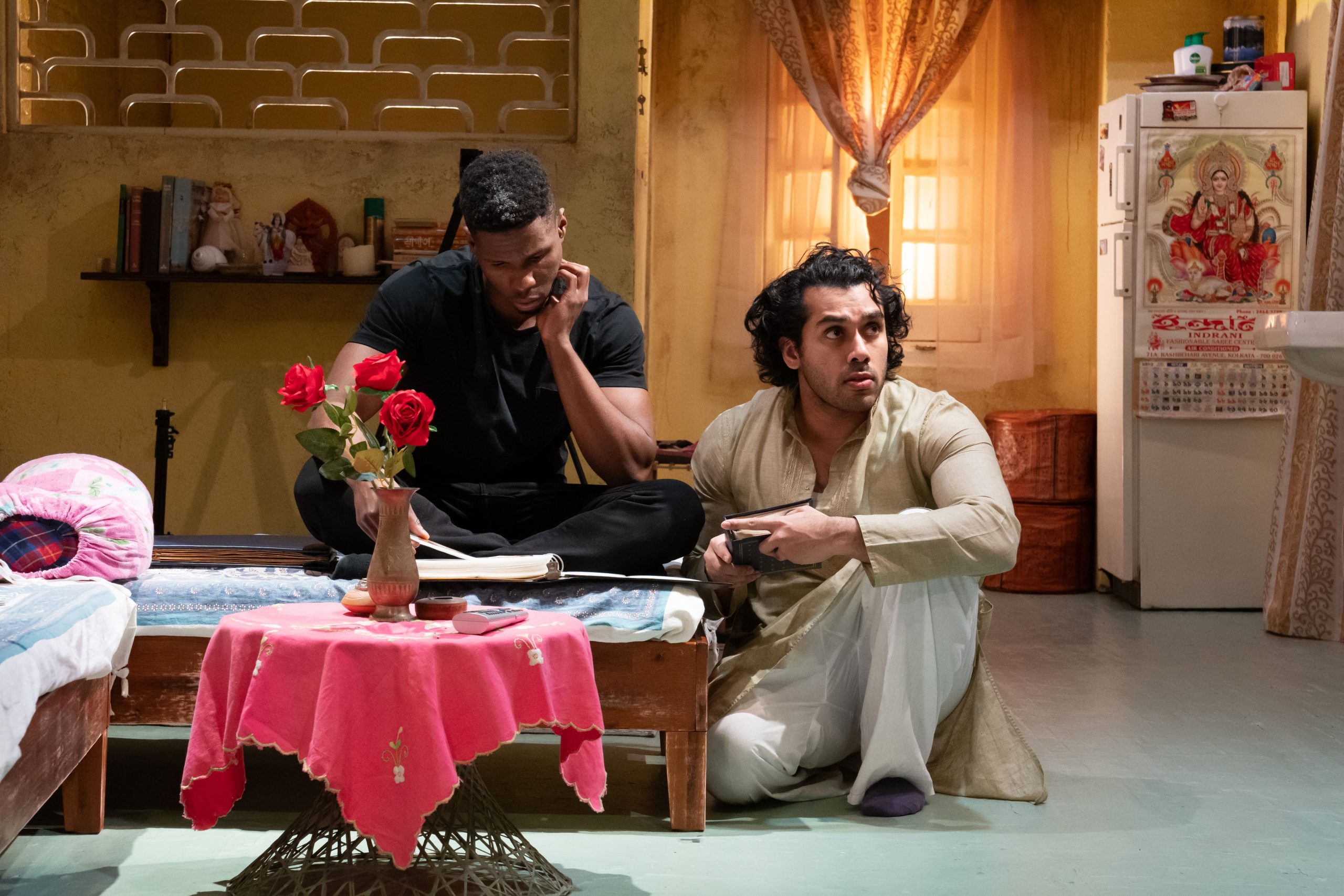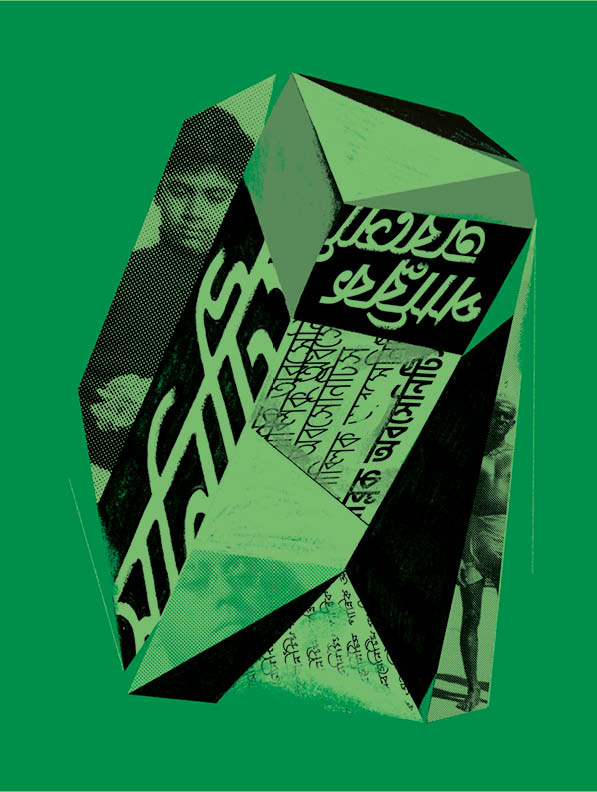 Soho Rep and the NAATCO National Partnership Project present
Public
Obscenities

written & directed by Shayok Misha Chowdhury

February 15 2023 - April 16 2023
He "became a picture." That's what we say when somebody dies. Chhobi hoye giyechhe.
Say it again?
Chhobi hoye giyechhe.
Choton relishes being the translator, toggling nimbly between Bangla and English, Grindr and academese. But when he returns to his grandfather's house in Kolkata with his boyfriend Raheem, an unexpected discovery leaves Choton at the limits of language.

Public Obscenities is a bilingual play from writer-director Shayok Misha Chowdhury about the things we see, the things we miss, and the things that turn us on.
Tashnuva Anan
Shou
Tashnuva Anan (she/her) is a young transgender human rights activist and theater worker from Bangladesh. She became the first transgender news anchor in Bangladesh, shattering the glass barrier of gender discrimination and paving the way for other transgender individuals to pursue other mainstream occupations. She is the only Bangladeshi to hold a position on the ILGA World board. As a public health graduate, Tashnuva has spent many years advocating for the SRHR of SOGIESC people in South Asia, with the advancement of SOGIESC people's human rights constituting the core of her advocacy work. During COVID-19 pandemic, she worked as a frontline volunteer relief worker in Gift for Good and various organizations. She has significant experience from the leading Training organizations in Bangladesh and Nepal, including BYLC, Advocacy Policy Influencing (API), SANGAT International Training from Nepal. Tashnuva is the first transgender model from Bangladesh who walked in NY fashion week, in 2022. She started her theater in 2006. Tashnuva Anan won the magazine Ananya's inaugural award, in 1993, for her activism. Tashnuva believes in a gender-equal society free from discrimination, and she aspires to establish it through her work, performance, creativity, and dialogue.
Abrar Haque
Choton
Abrar Haque (he/him) is thrilled to be making his New York and SoHo Rep debut in Public Obscenities. Recent credits include Fouad in Refugee Rhapsody (Artists Repertory Theater) and Florizel in A Winter's Tale (Portland Shakes). Originally from Portland, Oregon, this production and the people involved have been a wonderful introduction to the city. He thanks this amazing cast and crew for their generosity and openness, and his friends and family for their support, authenticity, and honesty.
Golam Sarwar Harun
Jitesh
Golam Sarwar Harun (Jitesh) (he/him) has garnered acclaim in the South Asian theater scene in the United States as a singer, actor, playwright, and a director. He also directs films and television commercials. He has performed in works ranging from The Threepenny Opera by Bertolt Brecht to Marat-Sade by Peter Weiss, plus Sudraka's Mrichchakatikam, among others. He is the artistic director of Dhaka Drama, a theater group founded in Queens, New York, and has directed plays for the New Jersey-based theater group Epic Actor's Workshop. Notable directing credits include Nirastra (Unarmed), Michhe Kolahol (Sound and Fury Signifying Nothing) and Dhaboman (The Run). His works have featured in multiple South Asian theater Festivals over the years. Apart from his work in theater, Harun has acted in multiple films from Bangladesh, including Mira Nair's The Reluctant Fundamentalist in the U.S. Harun started his theater career while attending high school in his birth country Bangladesh, where he has been part of multiple major theater companies. In the U.S., he has received theater grants from QCA for his play Stories of Jackson Heights, which premiered at the Queens Theatre. Harun is Chief Creative Officer of Sutra Advertising. He lives in Queens.
Gargi Mukherjee
Pishimoni
Gargi Mukherjee (Pishimoni) (she/her), a resident of Montclair, New Jersey, is well known in theater communities in New York and New Jersey, and has also played leading roles in films including The Namesake and Karma Calling. Mukherjee recently performed a monologue as part of a new series of all-female monologues, Women on Fire: Stories from the Frontlines at Royal Family Productions in New York. She is often seen at the South Asian Theater Festival. Mukherjee's play Our Voices was featured in the Commonground Theatre Festival and South Asian Theatre Festival in New Jersey and Ohio. Mukherjee co-wrote and co-directed Nirastra (Unarmed); conceptualized, translated, and played the lead in Stories of Jackson Heights; and co-wrote I Shakuntala, at Queens Theatre in the Park, Jamaica Performing Arts Center. Mukherjee also translated and adapted one of Rabindranath Tagore's short stories and performed it as a monologue, Mrinal's Letter, at the United Solo International Theatre Festival in New York. She performed the one-woman show The Breast Chronicle at the Crossroads Theatre/New York International Fringe Theatre Festival. She is also an SVP, Creative Director at Havas Gemini, a healthcare communications/advertising company in New York.
NaFis
Sebanti
NaFis (he/she/they) is thrilled to make their Off-Broadway debut with Soho Rep! She is a Bangladeshi-born and raised actor and singer based in NYC. SELECT THEATRE: Tinderella: The Modern Musical (Dylan), RENT (Angel), Polar Express (KIA), The Fold (Khalil), The 25th Annual…Spelling Bee (Barfeé). FILM: Who Killed Taniya (Nadiya). He is honored to be in a majority South-Asian cast telling this beautiful story in both English AND Bangla! They would like to thank Misha, TBD casting, Soho Rep, and NAATCO for this opportunity! NaFis would not be here today without all the love and support from her chosen family! He is also thankful for his teachers. NaFis would like to dedicate this performance to all the deshi/desi immigrants and children of those immigrants who dare to dream big! She would also like to dedicate this performance to the Hijras, the Kotis, and all the unsung heroes that make the South Asian queer community so bright and colorful! Special shout-out to her former dance teacher in Bangladesh, the late great Milon Sir, who helped her understand and be proud of her queerness! She aspires to be part of more new and existing stories that push boundaries and stereotypes! He hopes you enjoy the show! IG: @nafis_storyteller.
Jakeem Dante Powell
Raheem
Jakeem Dante Powell (Raheem) (he/him/his) will be seen in George C. Wolfe's upcoming Netflix feature Rustin, produced by Academy Award winner Bruce Cohen and The Obamas' Higher Ground Production Company. He was recently seen as Gary in Slave Play on Broadway and in its Los Angeles premiere at Center Theatre Group. Additionally, he starred in the streaming play This American Wife alongside Pulitzer Prize finalists Michael Breslin and Patrick Foley. He is a graduate of the Yale School of Drama.
Debashis Roy Chowdhury
Pishe
Debashis Roy Chowdhury (he/him) has portrayed complex characters in English and Bengali. During college, Debashis was inspired and initiated into theater by Badal Sarkar's theater group in Kolkata. In the U.S., he has acted in English and Bengali plays staged in Boston by multiple theater groups, notably Off-Kendrik and SETU. Notable roles include Master-chef Byakaron Singh in Boro Holo J, an original play (Off-Kendrik, Boston); Gnaeus Cornelius Lentulus Vatia in Spartacus, written by Badal Sarkar (Kolkata), Kaka-saheb (uncle) in Vijay Tendulkar's Kamala (SETU, Boston); and O'Brien in a Bengali adaptation of 1984 (Kolkata). He has directed plays in English and Bengali including Power to the People and Pakhir Paona. Debashis is a vocalist trained in North Indian classical music tradition. He resides in the Bay area.
Shayok Misha Chowdhury
Writer-Director
Shayok Misha Chowdhury is a many-tentacled writer and director based in Brooklyn. Misha began writing PUBLIC OBSCENITIES as an inaugural member of Soho Rep's Project Number One. Upcoming: SPEECH (Philly Fringe) with Lightning Rod Special. In process: RHEOLOGY (HERE Arts Center) with Bulbul Chakraborty. Recent: BROTHER, BROTHER (New York Theatre Workshop) with Aleshea Harris; MUKHAGNI (Under the Radar @ The Public) with Kameron Neal; HOW THE WHITE GIRL GOT HER SPOTS AND OTHER 90s TRIVIA (Joe's Pub) with Laura Grill Jaye. Misha and Laura were awarded a 2021 Jonathan Larson Grant for their body of work writing musicals together. Misha is also the creator of VICHITRA, a series of sound-driven, cinematic experiments, including ENGLANDBASHI (Ann Arbor Film Festival), THE OTHER OTHER (Ars Nova), IN ORDER TO BECOME (Bushwick Starr), and AN ANTHOLOGY OF QUEER DREAMS (Third Coast Audio Unbound award finalist; Sound Scene @ the Hirshhorn). He was a collaborator on the Grammy-winning album CALLING ALL DAWNS and has received residencies and fellowships from Sundance, New York Stage and Film, NYSCA/NYFA, Rhinebeck Writers Retreat, SPACE on Ryder Farm, Hermitage Artist Retreat, The Drama League, the Jerome Foundation, Mercury Store, BRIC, Fulbright, and Kundiman. Misha's poems have been published in The Cincinnati Review, TriQuarterly, Hayden's Ferry Review, Asian American Literary Review, and elsewhere. He is an alumnus of New York Theatre Workshop's 2050 Fellowship, The Public's Devised Theater Working Group, Ars Nova's Makers Lab, and Soho Rep's Writer/Director Lab. MFA: Columbia.
dots
Scenic Design
dots is a design collective based in New York City specializing in designing environments for narratives, performances, and experiences. Hailing from Colombia, South Africa, and Japan, dots are are Santiago Orjuela-Laverde, Andrew Moerdyk, and Kimie Nishikawa. They offer expertise in multi-disciplinary practices ranging from architecture to theater and performance design, graphic design, and film. Recent Credits: The Sign in Sidney Brustein's Window (BAM), Rinaldo (Minnesota Opera), Kate Berlant is KATE (Connelly Theater), You Will Get Sick (Roundabout Theater Company), production design for COINBASE: "International Transfers."
Enver Chakartash
Costume Designer
Enver Chakartash (they/them). Broadway: Is This a Room. Off-Broadway: Catch as Catch Can (Playwrights Horizons), English (Atlantic Theater Company), Bodies They Ritual (Clubbed Thumb), POWER (BAM), Which Way to the Stage (MCC), Wolf Play (Soho Rep), CITIZEN (BAM), Straight White Men (The Public). Regional: Vietgone (Guthrie Theater), Romeo & Juliet (Hudson Valley Shakespeare Festival), Straight White Men (Steppenwolf Theatre Company). With Tina Satter/Half Straddle: Ghost RIngs, Ancient Lives, House of Dance, Seagull (Thinking of You). With The Wooster Group: A Pink Chair, The Town Hall Affair, The B-Side, Early Shaker Spirituals, Early Plays. With Elevator Repair Service: Ulysses.
Barbara Samuels
Lighting Designer
Barbara Samuels (she/her) is a queer lighting designer, organizer, and producer residing on unceded Wappinger and Munsee Lenape land. Barbara creates design-forward live events that prioritize generosity, equity, and representation. Working nationally and internationally, Barbara collaboratively constructs intimate and explosive lighting environments for new plays, opera and dance. Barbara's designs have been seen regionally at Bard Summerscape, Long Wharf , The Alley, A.C.T., Shakespeare Theater Company, Playmakers Rep, Trinity Rep, Pig Iron Theatre, and Kansas City Rep. New York credits include designs at Soho Rep, Ars Nova, Lincoln Center Theater, New York Theatre Workshop, Playwrights Horizons, WP Theater, The Bushwick Starr, New Georges, and Clubbed Thumb. Barbara holds a B.A. from Fordham University and an M.F.A in Lighting Design from NYU.  Proud member of USA Local 829. New Georges Affiliated Artist.
Tei Blow
Sound Designer
Tei Blow (he/him) is a media designer and performer born in Japan and based in New York City. His work has been featured at The Whitney Museum, Dance Theater Workshop, PS122, Lincoln Center, The Kitchen, BAM, and The Public Theater. He is the recipient of a 2015 New York Dance and Performance "Bessie" Award for Outstanding Sound Design for David Neumann/Advanced Beginner Group's I Understand Everything Better. He is one half of Royal Osiris Karaoke Ensemble, whose ongoing multipart series of ritual performances The Art of Luv is a recipient of the Creative Capital Award. Tei is currently writing an opera based on the lives of John Titor and Yoshida Kenko.
Johnny Moreno
Video/Projection Designer
Johnny Moreno (he/him) is a production designer and filmmaker working across multiple disciplines, including theater, film, and live music. Recently he was the scenic and video designer of Fandango for Butterflies (and coyotes) at La Jolla Playhouse and production designer on José Rivera's short film The Fall of a Sparrow. For over a decade he has worked internationally as a concert video director and designer with multi-Grammy Award winning singer Lila Downs. As a filmmaker and cinematographer, he creates, directs, and produces visual material across a variety of mediums. Select projects include I Am a Seagull by The Chekhov Project and the award-winning short film Early Light. He has provided additional camera work for Broadway's MJ the Musical and Dear Evan Hansen and recently worked as an editor for film composer Hans Zimmer. Recent theater design includes Weightless, WP Theater; Addressless, Rattlestick Theater; For All the Women Who Thought They Were Mad, Soho Rep; A Grave is Given Supper, New Ohio Theater; Power of the Dog, Juilliard. Installations: Sweet Crude, Anna Kustera Gallery; As Above So Below, Dumbo Arts Festival;; Whitney White's Definition, Bushwick Starr. MFA: Yale School of Drama.
Sarah Lunnie
Dramaturg
Sarah Lunnie (she/her) is a dramaturg who works mainly on the creation and development of new plays. Favorite projects include Heidi Schreck's What The Constitution Means to Me (Broadway, New York Theatre Workshop, Clubbed Thumb); Jeff Augustin's Where The Mountain Meets the Sea, featuring original music by The Bengsons (Manhattan Theatre Club, Humana Festival); Anne Washburn's Shipwreck (Public Theater, Woolly Mammoth); Lucas Hnath's A Doll's House, Part 2 and Hillary and Clinton (Broadway), The Thin Place (Playwrights Horizons), The Christians, nightnight and Death Tax (Humana Festival); Charles Mee's Under Construction, made with SITI Company (Humana); and, with The Mad Ones, Mrs. Murray's Menagerie (Ars Nova) and Miles for Mary (Playwrights Horizons, Bushwick Starr). With Telephonic Literary Union and Woolly Mammoth, Sarah commissioned Brittany K. Allen, Christopher Chen, Hansol Jung, and Zeniba Now to create the dial-in hotline Human Resources (Woolly, Repertory Theatre of St. Louis). She has produced a number of projects for Audible, including Christopher Chen's The Podcaster; and is a repeat collaborator with the New York Choreographic Institute at New York City Ballet. Sarah previously worked in the literary offices of Actors Theatre of Louisville and Playwrights Horizons, and was an Associate Artistic Director of the Jungle Theater. She is the Senior Dramaturg of the Public Theater.
Sukanya Chakrabarti
Cultural Dramaturg
Sukanya Chakrabarti (she/her), Ph.D., is an artist-scholar and Associate Professor at the Department of  Film and Theatre, San Jose State University. She received her doctoral degree in Theater and  Performance Studies from Stanford University; and previously worked at Florida State  University and San Francisco State University.  Dr. Chakrabarti's works have been published in peer-reviewed journals such as Indian Theatre  Journal; Asian Theatre Journal; Modern Drama; Urban Geography; Ecumenica: Performance and  Religion; and Emergency Index. She recently published a chapter, '"Go back to India if you hate my people so much:" Consequences of Troubling and Reimagining the "Canon" in American  Academia' in Troubling Traditions: Canonicity, Theatre, and Performance in the US, published by Routledge. She is the author of a research monograph, In-Between Worlds: Performing [As] Bauls in an Age of Extremism (Routledge, UK).  As an artist, she has worked as a playwright, director, dramaturg, and performer for South Asian theater companies in the Bay Area, Stanford University, Florida State University, and San Francisco State University. She has also collaborated with dance and movement artists, musicians, and spoken-word artists in India and the US, for her devised and experimental  performance projects. 
Stephanie Yankwitt, CSA & TBD Casting Co.
Casting
Stephanie Yankwitt, CSA, tbd casting co. (she/her/hers). Resident Casting Director at Soho Rep. Upcoming/current NYC theatre includes Crumbs From The Table of Joy (Keen Company), Lunch Bunch (PlayCo), Hang Time (The Flea Theater), and SMART (EST). Ongoing work with Tectonic Theater Project, NAATCO, La Jolla Playhouse, TheaterWorks Hartford, Primary Stages, The Sol Project, and Long Wharf Theatre. Ongoing film work with Lexicon Films, Culture House, and O Positive.
Kim Montelibano Heil
Additional Casting
Kim Montelibano Heil, CSA is Casting Director, a Producer, and Consultant in theatre and entertainment.  She currently serves as the interim Associate Artistic Director at The Old Globe, having previously served as Associate Producer.  Most recently she was the Associate Producer and Casting Director for San Diego Repertory Theatre, and prior to that she was the Education Director at San Diego Junior Theatre.  Kim has also acted as a Consultant to Moonlight Stage Productions, and to San Diego State University's New Musical Initiative.  Recent casting credits include Kim's Convenience by Ins Choi at Laguna Playhouse, and JQA by Aaron Posner, which received a Critic's Pick from The New York Times.  Prior to working in San Diego, Kim was an associate for Broadway producer Arielle Tepper, and also served as the Associate Producer/Dramaturg for Second Generation's In The Works Reading Series, where she produced workshops of plays by emerging Asian-American playwrights.  She currently serves on the Board of the National New Play Network, and has also served on the boards of Diversionary Theatre and Blindspot Collective.  Kim was one of the inaugural Ambassadors for the San Diego Theatre Alliance, formed in response to the COVID-19 pandemic.  As a passionate advocate of Equity, Diversity, and Inclusion, Kim recently completed her training as a member of the artEquity BIPOC Leadership Circle.  Kim holds an M.A. in Performance Studies from New York University.
Teniece Divya Johnson
Intimacy Director
Teniece Divya Johnson (they/them) is an Intimacy Director, Fight Director, Stunt Performer, and Movement Storyteller working across television, film and stage. The first Black and first non-binary intimacy director on Broadway with Slave Play, Teniece serves as a resolute advocate for a decolonized collaborative approach to art, Black intimacy, Kink and Queer representation. Some additional credits include Succession, POSE, Lovecraft Country, American Saga Wu-Tang on Hulu, Barry Jenkins' The Underground Railroad, RAMY, Life & Beth, and West Side Story with Steven Spielberg. Off-stage sharing boundaries and empathy masterclasses with colleges, universities and corporations.
Patricia Marjorie
Props Designer
Patricia Marjorie (she/her) is a Brazilian multidisciplinary theater artist based in New York with focus on costume design, props and directing. Next works: costume and props for Modern Swimwear directed by Meghan Finn. Recent works: costume designer for Simon and His Shoes by Meghan Finn; set design for Re MEMORI by Nambi E. Kelley (WP Theater); props for You Will Get Sick directed by Sam Pinkelton (Roundabout Theatre); Montag directed by Dustin Wills (Soho Rep); Ulysses and The Seagull by Elevator Repair Service, Eva Luna by Repertório Espanhol; Notes on Killing Seven Oversight… by Mara Vélez Meléndez (Soho Rep), 7 Minutes (Waterwell, dir. Mei Ann Teo), Black Exhibition by Jeremy O. Harris dir by Machel Ross, SKiNFoLK by Jillian Walker, In the Southern Breeze (Rattlestick). Patricia has also recently directed What Will Become of Kaaron? (The Tank) and her own work as a playwright A Song to Keep the Wolves Awake (The Tank).
Alyssa K. Howard
Stage Manager
Alyssa K. Howard (they/them) is a NYC-based stage manager and more. Recent credits include: The Far Country (Atlantic Theater Company), Black Lodge (Beth Morrison Projects), Once Upon A (korean) Time (Ma-Yi Theater), Golden Shield (MTC), Wolf Play (Soho Rep), Nollywood Dreams (MCC), King Lear (Northern  Stage), for colored girls… (Public Theater), Mrs. Christie (Dorset Theatre Festival), If Pretty Hurts… (Playwrights Horizons), Good Grief (Vineyard Theatre), Henry VI (NAATCO), Teenage Dick (Ma-Yi Theater), Word Sound Power (BAM), The Echo Drift (Prototype), Glass Guignol (Mabou Mines), Dog Days (BMP at Fort Worth Opera/REDCAT/Prototype), Four Nights of Dream (Japan Society/Tokyo Bunka Kaikan). Selected virtual: What If If Only (NAATCO), P73 Virtual Residencies, Con Alma (National Sawdust). Other: Heartbeat Opera, Playwrights Realm, Noor Theatre, Bushwick Starr, 3LD, Mannes Opera, Juilliard School of Vocal Arts, Bucks County Playhouse, Berkshire Theatre Group, Yale  Repertory Theatre, Connecticut Repertory Theatre, McCarter Theatre. MFA: Yale School of Drama. BA:  Williams College.
Nicholas Polonio
Assistant Director
Nicholas Polonio is a Filipino-American director of plays originally from the Bay Area and currently based in Fort Greene, Brooklyn. He has adapted and directed productions including THE POLICE (The Wedge @ Hangar Theater), POV: U RUN JOE BIDEN'S TIKTOK (Ars Nova ANTFest), and LATE FAME (The Little Theater). As Associate Director: SLAVE PLAY (Broadway, CTG), A RAISIN IN THE SUN (The Public Theater), X: THE LIFE AND TIMES OF MALCOLM X (Detroit Opera, Metropolitan Opera, Chicago Lyric). Nicholas has developed new writing with Bedlam, The TEAM, Normal Ave, the Asian American Arts Alliance, the Sống Collective, and the American Playwriting Foundation. He is an alum of the Drama League Directing Fellowship, Roundabout Director's Group, Williamstown Theatre Festival Directing Corps, the Young Vic Genesis Directors Program, the National YoungArts Foundation. Nicholas received his BFA in Acting from Rutgers MGSA.
Yi-Hsuan (Ant) Ma
Assistant Set Designer
Colleen Murray
Assistant Set Designer
Nicole Slaven
Associate Costume Designer
Nicole Slaven is a NYC based costume designer and artist. Previous collaborations include NAATCO, Barrington Stage Company, Lesser America, The Atlantic Theatre Company, The New School of Drama, The Tank, Playwrights Horizons, Manhattan Theater Club, and the Williamstown Theatre Festival. She received a Drama Desk nomination for her costume design of NAATCO's Henry VI: Shakespeare's Trilogy in Two Parts. She is a teaching artist and a member of Wingspace Theatrical Design and United Scenic Artists 829. nicoleslaven.com
Alex Vásquez Dheming
Assistant Lighting Designer
Alex Vásquez Dheming (she/her) is a Lighting Designer and Production Manager from San Salvador, El Salvador based in NYC. Collaborators include Gilberto Santa Rosa, The Westerlies, BTS, Big Dance Theater, Works & Process, Nélida Tirado, Miguel Gutierrez, New York Theatre Ballet, Calpulli Mexican Dance, Ariel Rivka Dance, FJK Dance, Masterz at Work, Valerie Green/Dance Entropy among others. Her multidisciplinary work has been seen throughout the US (Jacob's Pillow, Lincoln Center, Guggenheim Museum,Park Avenue Armory, Baryshnikov Arts Center, Center for Performance Research, PSNY, the Highline, BAM, New England Conservatory of Music, Kaufman Music Center, Rattlesticks Theater, Museo del Barrio, The Tank NYC, Theatreworks, LA Public Libraries, Savannah Stopover Festival, etc.), Spain (Museo Guggenheim Bilbao), and France (Cannes Film Festival). Alex holds a BFA in Production Design from Savannah College of Art and Design (SCAD), is an alumna of Wingspace mentorship program, and Stagecraft Institute of Las Vegas (SILV). She was a commissioned artist at the Park Avenue Armory's Sound and Color: The Future of Race in Design Symposium (2023), is a recipient of The Playwright Realm's International Theatermakers Award (2021), and of the WEGE Prize Circular Economy Design Competition (2015) www.alexvasquezdheming.com @alxvsquezdhming
Ryan Gamblin
Associate Sound Designer
Ryan Gamblin is a sound designer, composer, and theatre–maker based in Brooklyn, NY. More information can be found at ryangamblin.com
Kalen Sierra Hughes
Assistant Stage Manager
Kalen Sierra Hughes (she/her) is a director and stage manager based in NYC. Stage Management: Merrily We Roll Along (NYTW), Aladdin (Genie 2.0 National Tour), To My Girls (Second Stage), The Devil Wears Prada (Chicago), P.S. (Ars Nova). Directing: The Jellyfish Play (The Queerantine Readings), Green Day's American Idiot (MMC), Freezer Burn (Manhattan Rep). Kalen hopes to continue work in genre-bending pieces of theatre and projects motivated by intersectionality and social justice. Love to Mom, Dad, Andrea, Lori, and Ned. Graduate of Marymount Manhattan College, Theatre Arts – Directing & Stage Management.
Juliana Suaide
Props Associate
Juliana Suaide (she/her) is a brazilian actress, producer and all-things-art-department based in NY. Juliana graduated in classical ballet by The Royal Academy of Dance and acting by The Lee Strasberg Theatre and Film Institute. Besides the acting credits, Juliana's art department credits have included the brazilian tv show "Rainha da Cocada" GNT – Season 2 and 3 (Prop Master & Set Dressing) , Diabolical – Discovery ID Series (Art Director), FOX Stick Figures – Pilot (Production Designer), Lies That Bind – Discovery ID Series (Art Director) , "Out Of Water" – Musical (Scenic Designer & Prop Master), and others. Most recent Props Associate credits include: "WolfPlay" – MCC, "You Will Get Sick" – Roundabout Theatre," Montag" – Soho Rep. "Notes on Killing" – Soho Rep. , "Ulysses"- ERS , "Eva Luna" – Repertorio Español and others. Juliana believes in creating intelligent, educational and inspiring work for both theater and film.
Genevieve Juras
Production Assistant
Genevieve Juras (she/her) is an NYC-based director, mover, and theatre-maker. Her creative experience spans performance, direction, costume design, stage management, and more. Recent work includes The Neil Diamond Musical: A Beautiful Noise (Broadway), Mud/Drowning (Mabou Mines), The Notebook Musical (Chicago Shakespeare Theater), and various productions with Boston University School of Theatre. She is focused on unearthing music and movement deeply rooted in stories, rediscovering and investigating the structure of theatrical processes, and exploring the intersection of the mediums and languages we use to make theatre. Recent graduate of Boston University; BFA Theatre Arts-Performance and BA Mathematics.
Jack Ganguly
Production Assistant
Jack Ganguly (he/they) is a queer South Asian American stage manager and recent graduate of NYU Tisch School of the Arts. Jack has stage managed at the Public Theater, Atlantic Theatre Company, Soho Rep, and was a General Management Intern at Bespoke Theatricals on Broadway. Jack is infinitely grateful to assist this queer Bengali story set in his family's hometown of Kolkata. They hope to uplift more South Asian/Desi and trans/queer storytellers while advocating for unconditional care from the institutions behind them. Jack would like to thank Sunanda Mashi and Dadu for the Bangla lessons. Much love to Mom & Priya. JackGanguly.com. Jack's family created LEARN WITHOUT BARRIERS with the mission of breaking the cycle of poverty in the slums of Kolkata, India through the power of education. Please consider donating at LearnWithoutBarriers.com.
Kevin Jinghong Zhu
Stage Manager (Cover)
Kevin Jinghong Zhu (he/him) is a New York-based stage manager. His selected credits include Broadway: Harper Lee's To Kill a Mockingbird. Selected Off-Broadway: A Delicate Balance (Transport Group & NAATCO); It's a Wonderful Life (Transport Group). Selected Regional: Between Two Knees (Seattle Rep & McCarter), Today is My Birthday, A Raisin in the Sun, and El Huracán (Yale Repertory Theatre); As Bees in Honey Drown, Kim's Convenience, and Tribes (Westport Country Playhouse); DREAM HOU$E (Long Wharf Theatre); To The Moon and Back (Chester Theatre Company), Bright Half Life (WAM Theatre). Other credits include: Ten Brave Seconds (Foresight Theatrical); Shedding Load (The Varsity Theatre Company); Criminal Queerness Festival, and PrEP Play, or Blue Parachute (National Queer Theater). MFA: Yale School of Drama. 
Alex Luong
Assistant Stage Manager (Cover)
Alex Luong (he/him) is a New York-based stage manager from San Diego. Selected credits include Broadway: Sweeney Todd, Girl from the North Country. Off-Broadway: Merrily We Roll Along, american (tele)visions (New York Theatre Workshop). Regional: Lempicka, Bhangin' It: A Bangin' New Musical (La Jolla Playhouse), and Hair (The Old Globe). Academic: Farside, Exotic Deadly: Or the MSG Play, and 53% Of (UC San Diego). Inaugural cohort member of the Cody Renard Richard Scholarship Program. BA: UC San Diego.
NAATCO (National Asian American Theatre Company) was founded in 1989 by Richard Eng and Mia Katigbak. NAATCO's mission is to assert the presence and significance of Asian American theatre in the United States, demonstrating its vital contributions to the fabric of American culture. They present the following repertory: European and American classics as written with all Asian American casts; adaptations of these classics by Asian American playwrights; new plays – preferably world premieres – written by non-Asian Americans, not for or about Asian Americans, but realized by an all-Asian American cast; and new plays by Asian American playwrights that incorporate other performative arts and media. Their latest initiative, the NAATCO National Partnership Project, establishes relationships with theaters around the country to ingrain the inclusion of Asian American theatre artists, technicians, and administrators in their programming for the long run.
Production fees for playwrights at Soho Rep are generously sponsored by The Dorothy Strelsin Foundation. Public Obscenities was originally commissioned by Soho Rep and NAATCO. Funding for Public Obscenities is provided, in part, by the Venturous Theater Fund of the Tides Foundation and the National Endowment for the Arts. Special thanks to The NYC Mayor's Office of Media and Entertainment (MOME) for providing promotional support. Funding for the initial two-week extension of Public Obscenities was generously provided by the Horace W. Goldsmith Foundation.