Lab Co-Chairs William Burke and Jackie Sibblies Drury
September 12, 2023
Season: 2023/24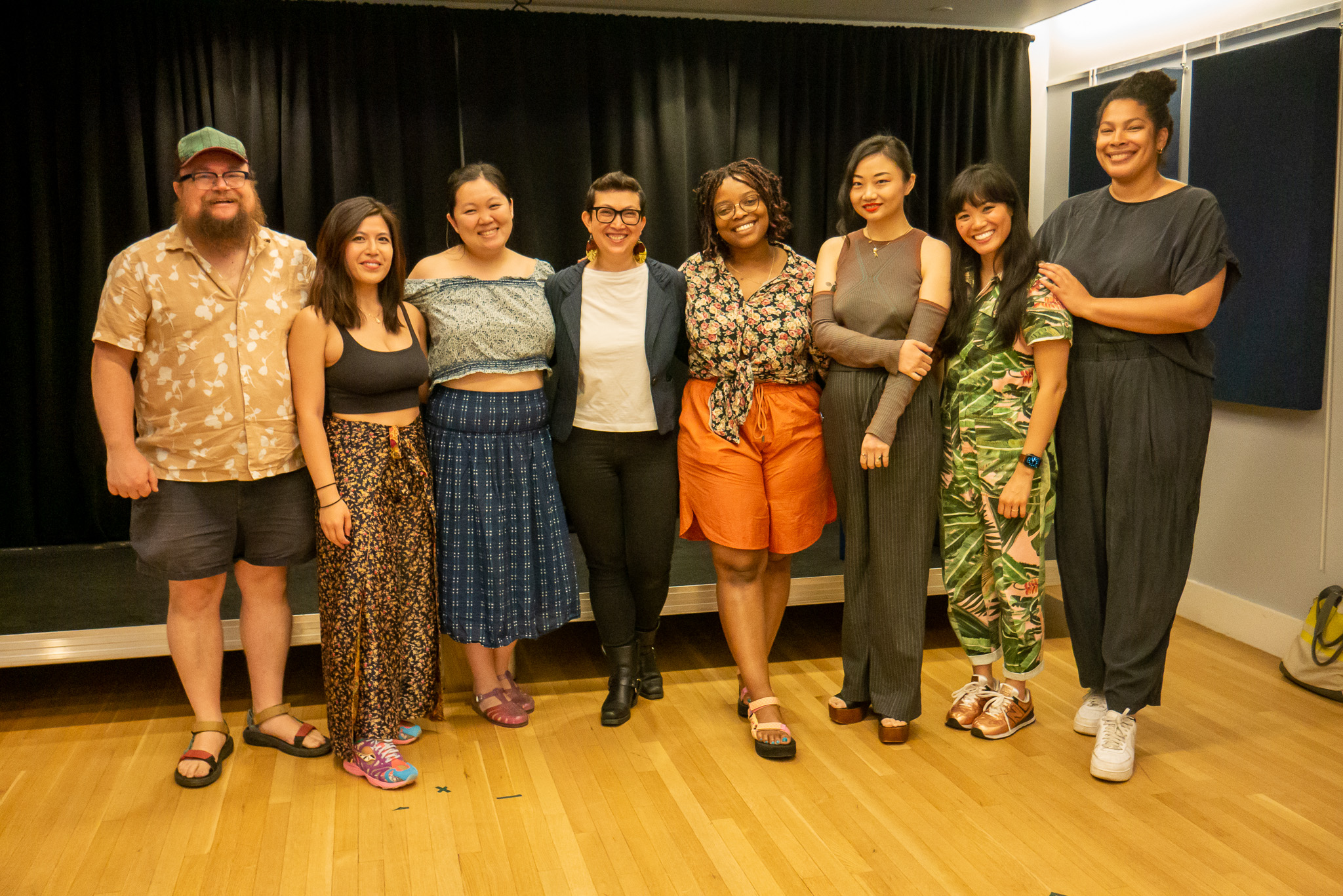 What are your personal histories with the Lab before becoming co-chairs?
JSD: I had a good experience of being in the Lab. I idolized Jenny Schwartz and Ken Rus Schmoll, who were co-chairs at that time, and so I was so nervous and excited to be accepted. I loved getting to sit around the conference table and read other people's pages, and share mine (even though both made me nervous) – it felt like school, but instead of fulfilling assignments, we were actually trying to make things. So like school but with feeling? I really was impressed by and feel warmly about everyone in my cohort. 
WB: I was never in the Lab. Was rejected 4 or 5 times. I will say that 3 of the projects I proposed became actual things that happened in front of people in other places. To me, that's an indicator of a quality program if even the submission process generates work. I did provide FOH support when I first started working for Soho Rep.  I remember having to turn away 30 people from Branden Jacobs-Jenkins and Shoshona Currier's lab showing in 2009 because it was so full and it was chaos on Walker Street and thinking "Holy crap! What's happening?!! It's just a reading.  This feels like a party!"
What do you think the Lab has meant to the New York theatrical landscape in the past 25 years of its existence?
JSD: I've been told that when it started, Soho Rep's Lab was a unique thing – an opportunity to create something and try it out with people. Over time, many of these New Play Development Opportunities came into existence – when I was looking out for these opportunities, Soho Rep's was one of at least ten other programs running in New York.  That isn't a bad thing – the more support for development the better, generally speaking. But, unfortunately, with more of these programs, they became less specific, less intentional – it felt to me that they were like badges you collect – or, I'm not a video game person, so I don't know exactly but coins? Pokemon? … A feeling emerged that if you were able to add enough Development Opportunities to your resume, in conjunction with the Right Grad School, you would merit a production. I think, with William and I as co-leaders, we tried to combat that – to hold true to the initial impulse of the Lab concept in general, to have people try to make something. I don't know if that was wise, honest, or prudent, or if that was even achieved.  But I still stand by that impulse.
WB: I think it has meaning just by lasting all of these years. All of these types of programs have their own importance and significance but I do think it stands as a way station for substantial theatre making and a needed deconstruction of what it means to collaborate and why we do work in this particular city. I agree with Jackie that these programs can take on a merit badge/pokemon feel but I'm proud to be part of a program that has evolved and adapted but still kept the attempt simple. Just make something with another person among a cohort of artists trying to do the same and really embrace the human element of making art and see how that aids you and your process going forward.
What has your experience been as co-chairs of the Lab for the past three cycles? What have you learned? What has inspired you?
JSD: I've been really inspired by so many of the artists that I have come across, both the ones in the lab and ones I've only witnessed during the application process. That sounds like BS, but I've been really inspired by people's willingness to hold themselves up, again and again,  and try to explain their impulses to strangers. It's so hard. And it can be really beautiful.
WB: Oooo. I echo the sentiment about encountering the artists during the application process. There are so many incredible thinkers in our field and to encounter them in such a binge-like fashion is overwhelming and exhilarating. The Lab has become a very centering presence and action in my life. There are times when I don't want to leave my apartment on a Sunday and deal with weekend trains but I leave every meeting lighter and optimistic in general. I'm so thankful that I have this gig. So much more is talked about in our meetings than making plays sometimes and I truly value how open each cohort has been about themselves and how they look at the world. 
Can you talk about the current Lab cohort? What is something that excites you about each of the groups/projects?
JSD: I'm really excited about each of them. I love that some of their plays might not be plays. I love that some of their plays might be classical essential plays in ways that we haven't been able to envision before. I love how thoughtful and supportive they have been to each other. And I really value their modeling, for me, a kind of ambition that is additive and not subtractive.
WB: Pardon the enthusiasm BUT…Just wait!  They are going to melt some brains. The range of work this year is awesome. These pieces aren't easily described in bite sized portions BUT I'm excited by the grounded but twinkly eyed, spiritual explorations of Nkenna and Nana, the careful yet urgent biting mischief of Ran and Risa and the generous but subversive Chekhovian implosions of Annie and Carolina. It's been a pleasure to witness these journeys take place. I can't wait for people to experience them.
Pictured (from L to R): William Burke, Carolina Đỗ, Annie Jin Wang, Nana Dakin, Nkenna Akunna, Ran Xia, Risa Puno, Jackie Sibbles Drury.