David Mendizábal
March 9, 2022
Season: 2020/21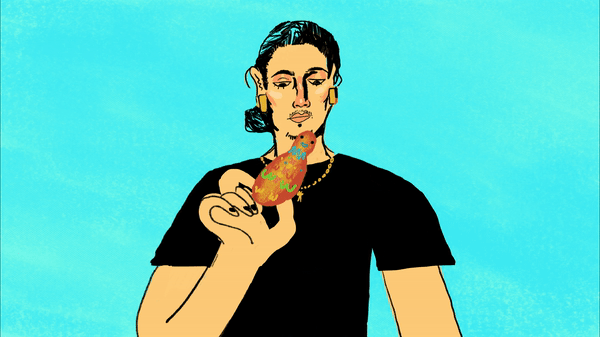 They say that every seven years we essentially become new people, because in that time, every old cell in our body has been replaced by a new cell through a process known as autophagy.
Autophagy literally translates to "self-eating", which got me thinking:
What are the parts of myself, or ideas I've held onto that I would eat away if I could? What would I replace those ideas with?
Over the past year of deep self-reflection and throughout this residency, I've been working on a project called eat me!, a cinematic ritual towards self-actualization and growth. Inspired by an Ecuadorian ritual of preparing and eating "guaguas de pan" or bread babies, as a way to mourn those we've lost, this short film is both a release and a rebirth. It's an examination of the relationship between creation and destruction, a return to a creative process, and a move beyond my comfort zones towards a celebration of self-love.
-David Mendizábal
Created & Directed by David Mendizábal
Edited by Yee Eun Nam
Original Music & Sound Design by Mauricio Escamilla
Dramaturgy by Alexandra Meda
Animation by Jeromy Velasco
Costume Design by David Mendizábal
Hair by Jeffrey Bautista
Makeup by Sterling Tull
Art Direction by Darrin George
Videography by Neville Braithwaite