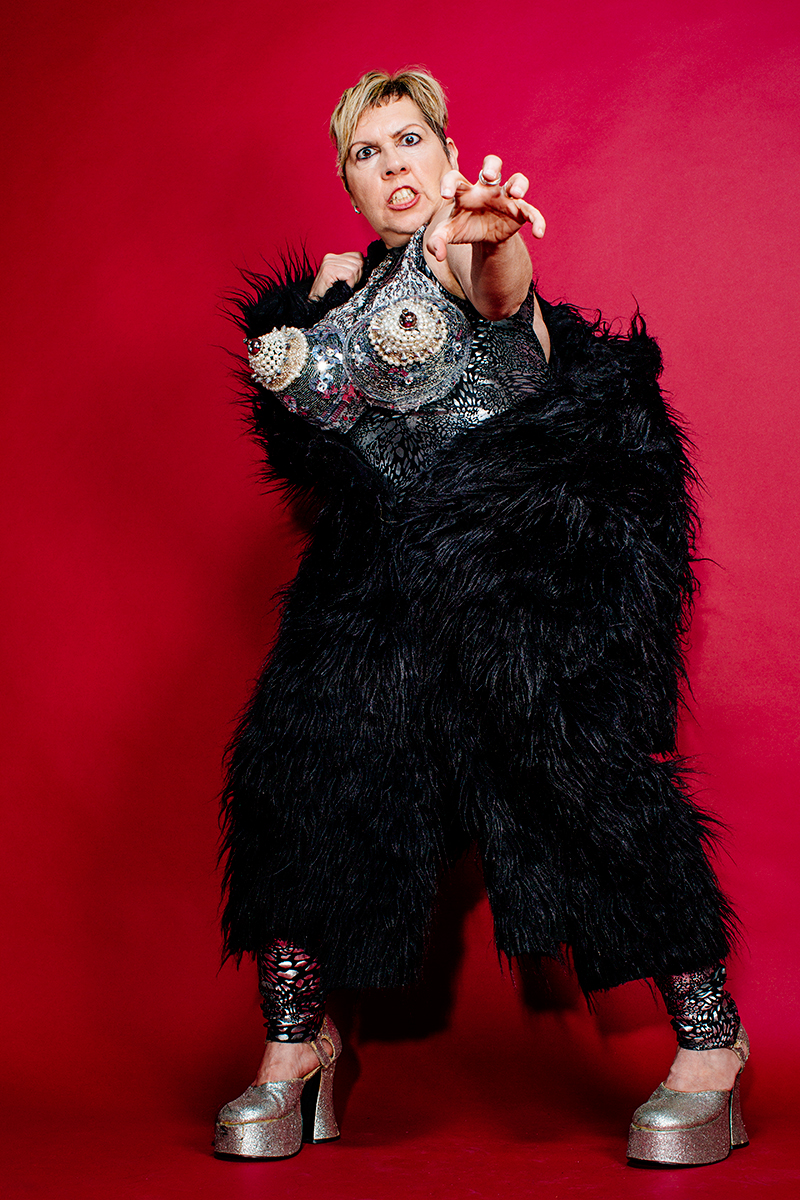 A Letter from Carmelita Tropicana
Mi Gente – People,
This is Carmelita Tropicana writing to you about Soho Rep, a powerful theater that makes an audience cry in one eye and laugh in the other.
For me it was love at first sight. I saw Blasted – a play about humanity and violence that was so powerful, I was shaking. I called a friend asking him to have a drink because I needed to process. The love deepened with An Octoroon and Fairview.
I missed live performance so much during Covid. I couldn't wait for Soho Rep to reopen. In 2021, I went to While You Were Partying on a 99¢ Sunday, because who can pass up a bargain? The opening monologue was so sharp and fierce, I still think about it. Then I saw Wolf Play, and I admit when I entered, I was confused. Where is the set? Then the play begins and I see the space transformed with bodies and a child puppet and the story takes me away. I walked home so happy. Next comes Notes on Killing Seven Oversight, Management and Economic Stability Board Members. It's a LatinX story! People, do you know how rare it is for us to hear these stories? The play is about colonialism with drag and costumes and music. My heart is kvelling with Puerto Rican pride.
For those productions to be stellar, it's a proceso. In 2019, I witnessed how good Soho Rep is with artists. I had a workshop of a collaboration with Branden Jacobs-Jenkins that couldn't have been better. Soho Rep knows how to support artists in finding their way without messing up their proceso.
I have felt the love from Soho Rep. During the pandemic they created an innovative job-creation program Project Number One. I was one of the lucky artists to be chosen. We all got a salary and health insurance. We met with the staff in our zoom boxes. We talked about our theater experiences, shared recipes, and invited guests. Project Number One acted as a think tank where we all imagined a better future for our world through theater. Those conversations planted a seed that has kept growing for a second and now third year. Artists continue to be given life changing residencies. Soho Rep has also completely restructured their budgets to prioritize paying artists a living wage, even when faced with extraordinary challenges.
This past month I became a new board member because my love for Soho Rep is for keeps. Whatever we face, I'm confident with the family that is Soho Rep we shall overcome. So please join me in opening up your hearts and wallets and donate to this amazing theater.
With love because la lucha continua,
Carmelita
Picture by Carlos David for Mundos Alternos, Pacific Standard Time: LA/LA, Los Angeles.
Soho Rep is a civic theater that produces ambitious, innovative new works by radical theater makers that go on to future productions around the world.