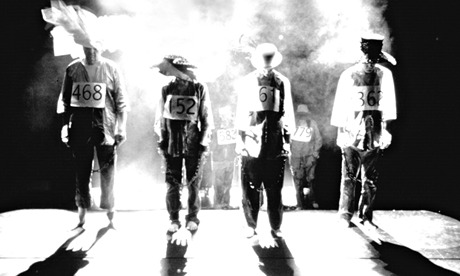 In anticipation of REVOLT. SHE SAID. REVOLT AGAIN., Soho Rep. asked playwright Alice Birch about art pieces that inspired her play. Alice came back to us with a formidable list of plays, photography, feminist essays, and poetry that have all been an influence on this piece of writing.
In a series we are calling "Recipes for REVOLT", we will be delving a bit deeper into these art pieces to give you a sense of where this extraordinary play sprung.
Caryl Churchill's short but substantial play Far Away depicts a world literally at war with itself –nations, plants, animals, and the elements all choosing sides. Both dystopian and unnervingly adjacent to our own present, Far Away is, as scholar Una Chaudhuri puts it, a "graphic rendering of a social contract in tatters, a world where art and labor have been turned into weapons of domination and alienation" (Different Hats, 2003). Much like Churchill's play, Alice Birch's Revolt. She said. Revolt again. is disarmingly brutal in its conception of a possible future; depicting a world of constant, radical transformation and conflict, the hope and threat of change ever-present from scene to scene.
JOAN: Of course birds saw me, everyone saw me walking along but nobody knew why, I could have been on a mission, everyone's moving about and no one knows why, and in fact I killed two cats and a child under five so it wasn't that different from a mission, and I don't see why I can't have one day and then go back, I'll go on to the end after this. It wasn't so much the birds I was frightened of, it was the weather, the weather here's on the side of the Japanese. There were thunderstorms all through the mountains, I went through towns I hadn't been before. The rats are bleeding out of their mouths and ears, which is good, and so were the girls by the side of the road. It was tiring there because everything's been recruited, there were piles of bodies and if you stopped to find out there was one killed by coffee or one killed by pins, they were killed by heroin, petrol, chainsaws, hairspray, bleach, foxgloves, the smell of smoke was where we were burning the grass that wouldn't serve. The Bolivians are working with gravity, that's a secret so as not to spread alarm. But we're getting further with noise and there's thousands dead of light in Madagascar. Who's going to mobilise darkness and silence? that's what I wondered in the night. By the third day I could hardly walk but I got down to the river. There was a camp of Chilean soldiers upstream but they hadn't seen me and fourteen black and white cows downstream having a drink so I knew I'd have to go straight across. But I didn't know whose side the river was on, it might help me swim or it might drown me. In the middle the current was running much faster, the water was brown, I didn't know if that meant anything. I stood on the bank a long time. But I knew it was my only way of getting here so at last I put one foot in the river. It was very cold but so far that was all. When you've just stepped in you can't tell what's going to happen. The water laps round your ankles in any case.
– Excerpt from Far Away by Caryl Churchill